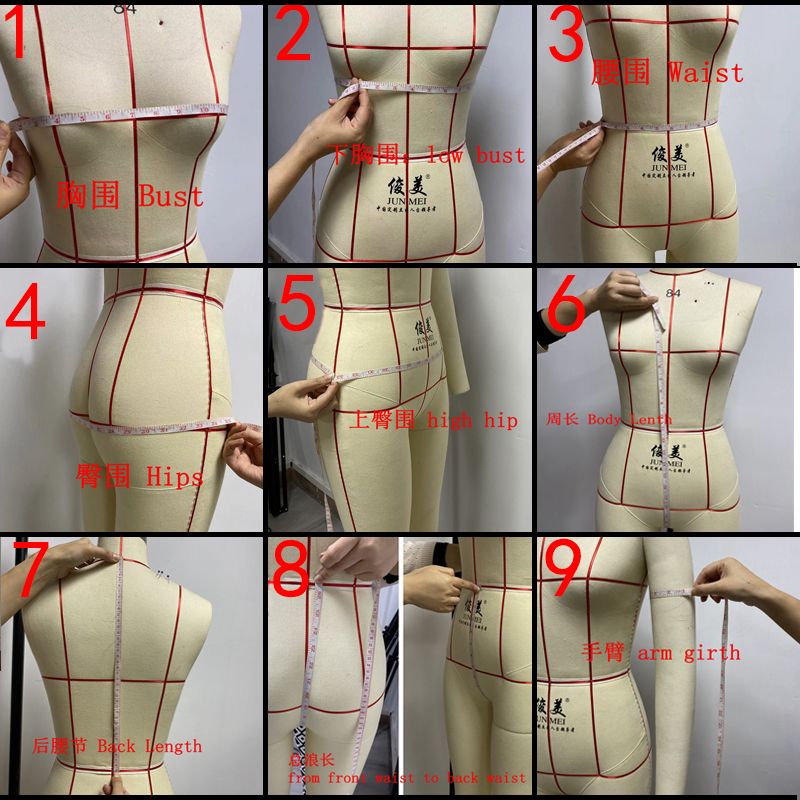 1.Bust

With arms relaxed at sides, measure the fullest part of Bust, keeping the measuring tape parallel with the floor.

2.Low Bust:

Wrap under your bust where your underband would generally sit.




3.Waist:

Measure around the smallest part of the waist. Not over clothing.

4.High Hips:

Below your waist take this measurement around the fattest part of your tummy.
5.Hips:

Measure the fullest part of the hip.

6.Girth:

Measure from the top of the shoulder,down the body,between the legs and back up to the same shoulder,Make sure the measuring tape is snug against the body,but not tight.




7.Back Length:

Put a rope or ribbon on the smallest part on the waist (softest part on the waist). A prominent bone is found on the back neck after she bowed the head.Back Length is vertical taped from the prominent bone to the waist line.

8.Total Rise:

Front rise :

Lay the crotch area flat and straight, and measure from the top of the waistband to the inseam.

Back rise.: Place the tape on top of the back waistband and measure across by pulling the front crotch area to get a straight back rise from end to end.



9.Arm girth:

10.Height:

From head to foot

.